Last Chance - LGIL Fingerstyle Package
Nothing Can Captivate An Audience Like Fingerstyle Guitar
Watch The Video Below To Find Out More...
You can only strum an acoustic guitar for so long. One day you'll want to discover more...
Do you ever feel that if someone was listening to you strumming they wouldn't recognise the song you're playing?
Strumming is important when learning guitar, but without a singer (or a lead guitarist) you can sometimes "lose" the song.
Fingerstyle is unique because you play the accompaniment AND the singing at the same time. It's this combination of rhythm and melody that can really capture an audience's imagination.
Fingerstyle CAN be beginner friendly, you just need the right balance of structure and inspiring songs.
4 fingerstyle courses, 90 video lessons, 89 TAB sheets and 12 hours of quality fingerstyle tuition.
The 4 courses on offer in the LGIL FINGERSTYLE PACKAGE took me 5 years to make. They share my passion for fingerstyle guitar in a detailed and engaging way.
Each course has "mini song projects". Every song builds upon the last so you can feel progression in your playing, but most importantly so you don't get overwhelmed. Each course gives clear and enjoyable fingerstyle guidance.
The 89 song TAB sheets can be downloaded, printed or viewed directly from the lesson page.
All courses have LIFETIME access and are available to stream or download.
What is the LGIL Fingerstyle Package?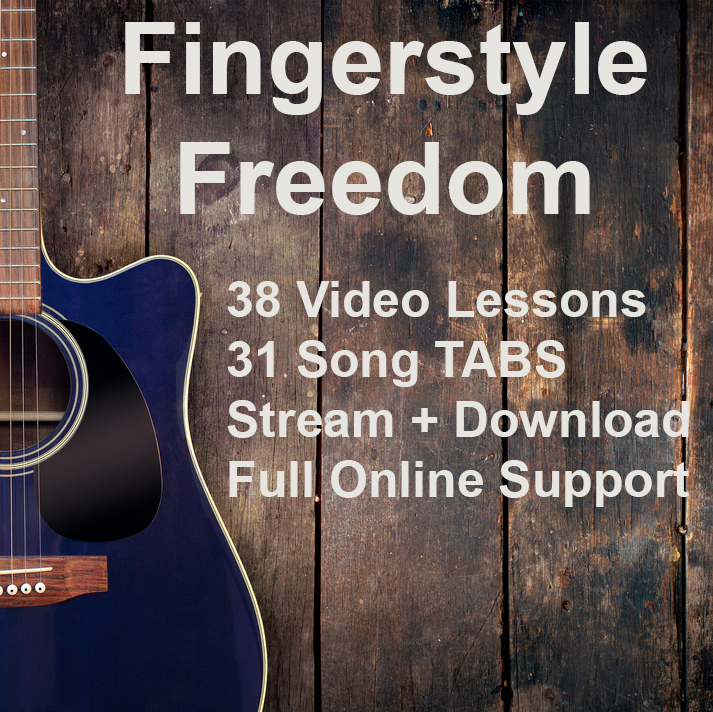 Fingerstyle Freedom (Beginners Course)
500 courses sold at LearnGuitarInLondon.com
With 36 videos FINGERSTYLE FREEDOM is a fully comprehensive course. It would have been easy to make half this many lessons, but that would mean you'd be missing out on the most essential fingerstyle instruction that many "lighter" courses don't include.
There are more lessons than you'd expect because FINGERSTYLE FREEDOM was made with a "no stone left unturned attitude".
At its heart, FINGERSTYLE FREEDOM builds a core understanding of fingerpicking technique for any skill level, using short, fun and engaging original songs.
The 9 Modules in the course can be broken down into 3 categories:
Lessons 1 - 20 "Core Fingerstyle Techniques" - 101 Instruction Taught With Clarity + Patience
Lessons 21 - 31 – How To Play Travis Style. – The Cornerstone Of Fingerstyle Guitar
Lessons 32 - 37 - Fingerstyle Speed Training, Learning By Ear + Many More...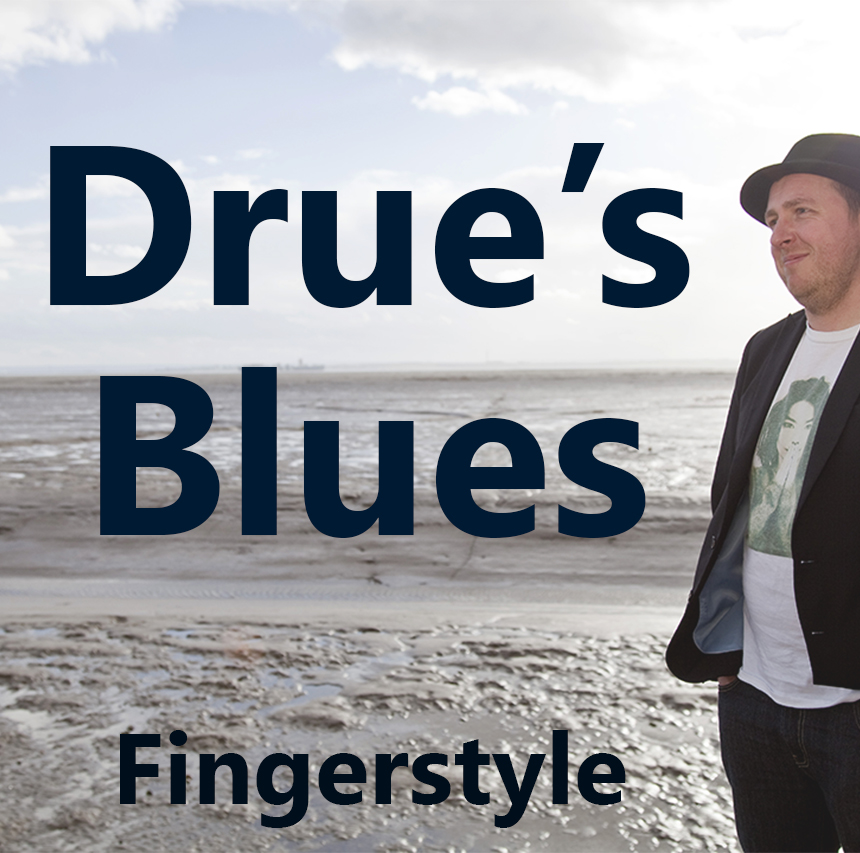 Drue's Blues - Volume 1
11 video lessons (99 Minutes) of beginners fingerstyle blues lessons.
First off you'll learn the 3 Essential Blues Techniques. Then we head into some fun and musical blues warm ups. Getting that thumb bouncing and those fingers singing.
Finally we're into 10 original blues songs that build up your skill level in progressive stages.
Watch the course preview video below...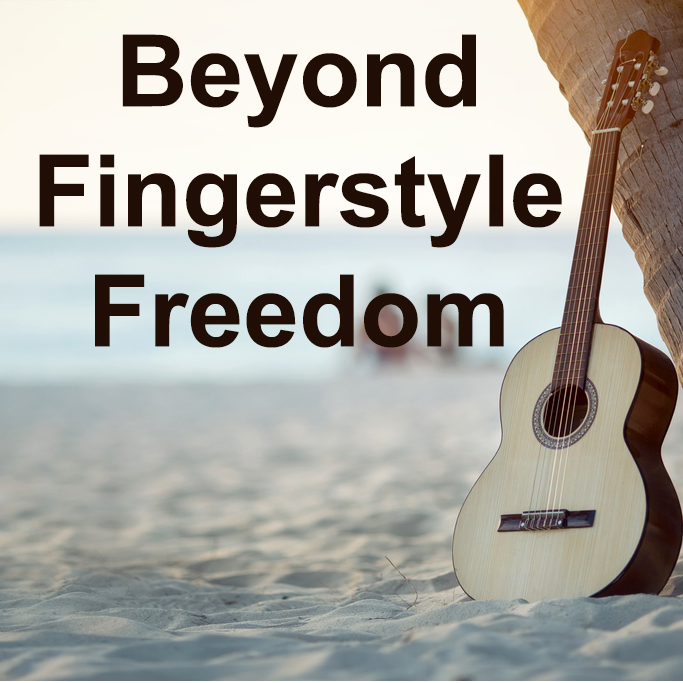 "Beyond" Fingerstyle Freedom
(Heavily requested follow up to FINGERSTYLE FREEDOM)
Picking up where FINGERSTYLE FREEDOM left off this intermediate fingerstyle course contains 30 song lessons. (273 Minutes)
Each song builds upon the last and explores intermediate techniques such as:
Alternate Tunings (You'll learn 7 different tunings, each with a mini song project to get you started.)
Barre Chords + Finger Strength (Song ideas to get those barre sounding clean and fluid.)
Speed Challenges (Take your travis picking to new levels of speed.)
Percussive Techniques (Chucks, mutes and everything in-between)
Watch the course preview video below for a small taste of what you'll be learning...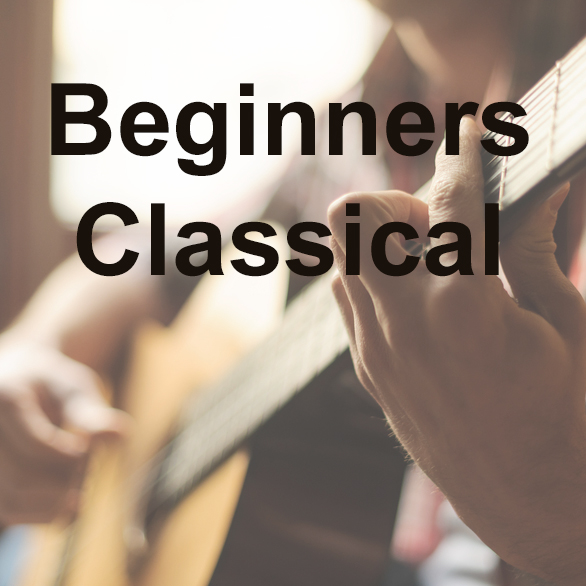 Beginners Classical
(Timeless guitar songs written by the world's most famous composers)
BEGINNERS CLASSICAL is a 12 video course that not only has a beginner friendly introduction to classical guitar, but also 10 song lessons written by some of the worlds greatest composers.
Each song lesson is taught with the same patience and clarity that you'd expect from LearnGuitarInLondon.com
Watch the video at the bottom of this page to preview some of the songs included.
Testimonials for FINGERSTYLE FREEDOM + DRUE'S COURSES...
"This course has improved my understanding on where to find notes, my rhythm and knowing what the base note is in a particular chord. I have never had a guitar lesson in my life, but this course is brilliant."
Ian March – Norwich - UK
"I really like that it starts at a basic level and slowly builds up your technique, literally one finger at a time. It has clearly been well thought out."
David Albutt - Bonn - Germany
"Strumming is good once you've learnt chords, but Fingerstyle Freedom is a different take. You can most definitely "hear" the tune you are playing."
David Leith – South Yorkshire - UK
"What I needed was a disciplined approach on how to use the fingers correctly and efficiently. So far, the course is doing that. I am taking it slowly since I have much to "unlearn"."
Allan – Southern Ontario - Canada
"I like the teaching style because the lessons go into the depth without boring me. It's step by step from zero. That's exactly what I need."
Bernard Thorborg - Harburg - Germany
"I appreciate the structured approach that Drue presents. He gives time to each and every aspect. I am now focused were before i was jumping about from one topic to another. This has allowed me to progress further than anything I've tried previously."
Anthony Skeat - West Sussex - UK
"I am slowly working through the Fingerstyle freedom course (up to Video 8 at present) and have noticed a significant improvement in my ability to both move my fingers and play at a quicker pace."
Malcolm Hutchinson - No Location Given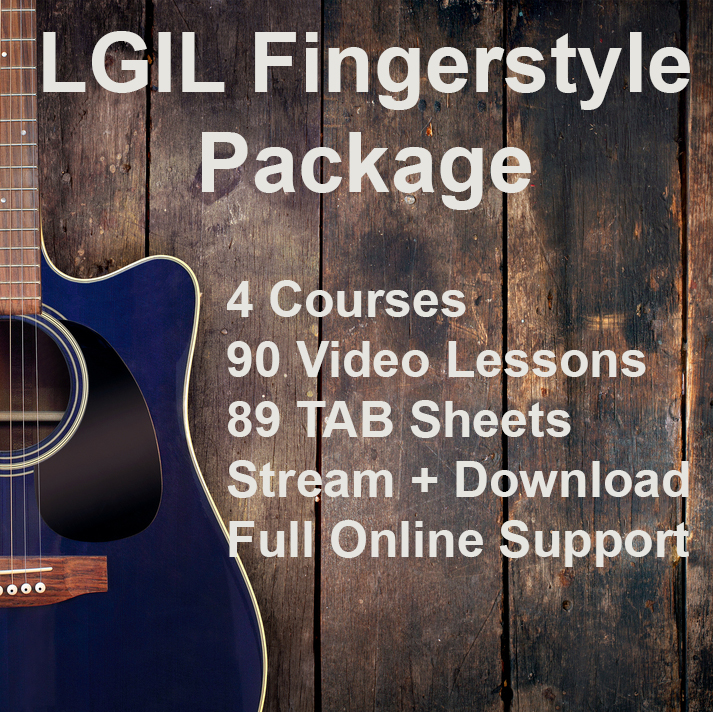 Unique to LGIL Premium Courses. (DOWNLOAD + WATCH LATER)
Unlike other guitar sites I believe that if you pay for something you should own it. Not just stream it. That's why you can download all 4 courses (that's all 90 videos and 89 TAB through a secure link to my WeTransfer account.
You then have the freedom to learn fingerstyle guitar even when you don't have an internet connection.
Contact form on every page. (Get a reply from Drue)
How many online courses offer personal feedback from the teacher that originally made the course?
This type of service is like one to one tuition. (But a lot less expensive.) For your convenience, you can use the LGIL contact form. If you get stuck, just fill in the form to ask a question.
I will answer all questions from Premium Course Students. (Within 48 hours)
Two cameras are better than one.
The benefit of 2 camera angles is like having 2 pairs of eyes when watching the lesson.
You'll see the lesson in greater detail because you can view the guitar in different places. Not only that but when playing along you get a close up of the picking hand to help reinforce the fingerpicking rule.
The LGIL FINGERSTYLE PACKAGE is in HD and can fit any screen size. Laptop, tablet and smartphone are all catered for.
LIFETIME money back guarantee.
As with ALL of the LGIL Premium Courses you have a LIFETIME 100% money back guarantee.
If your fingerstyle guitar doesn't improve or you no longer wish to use the course then just email drue@learnguitarinlondon.com for a prompt and courteous refund.
No subscriptions to cancel. Just a prompt FULL refund.
Immediate access – Start enjoying and improving your fingerstyle right now.
After making payment you'll be emailed course access (and download) links. This means no waiting. You can start improving your fingerstyle guitar right now.
COURSE PRICING (Without The Student Area Membership Discount)
Fingerstyle Freedom = £49.99
Drue's Blues - Volume 1 = £24.99
Beyond Fingerstyle Freedom = £49.99
Beginners Classical = £24.99
Total = £149.96
LGIL FINGERSTYLE PACKAGE (All 4 Courses)
"Student Area Member Special Offer"

=

£49.99 ($67.00 US dollars)
That's a £100 saving on the regular course pricing.
Pound to dollar conversion may vary. Conversion rate applied on 13th April 2021.
To begin your Fingerstyle Journey click the

orange button

below.
This will take you to the LGIL FINGERSTYLE PACKAGE product page. You can then make a secure payment via PayPal or with a debit/credit card.
After you've a made payment you'll be sent an email with course access links.
If you have any questions about checkout or purchasing the course then message me directly: drue@learnguitarinlondon.com I'll be happy to help.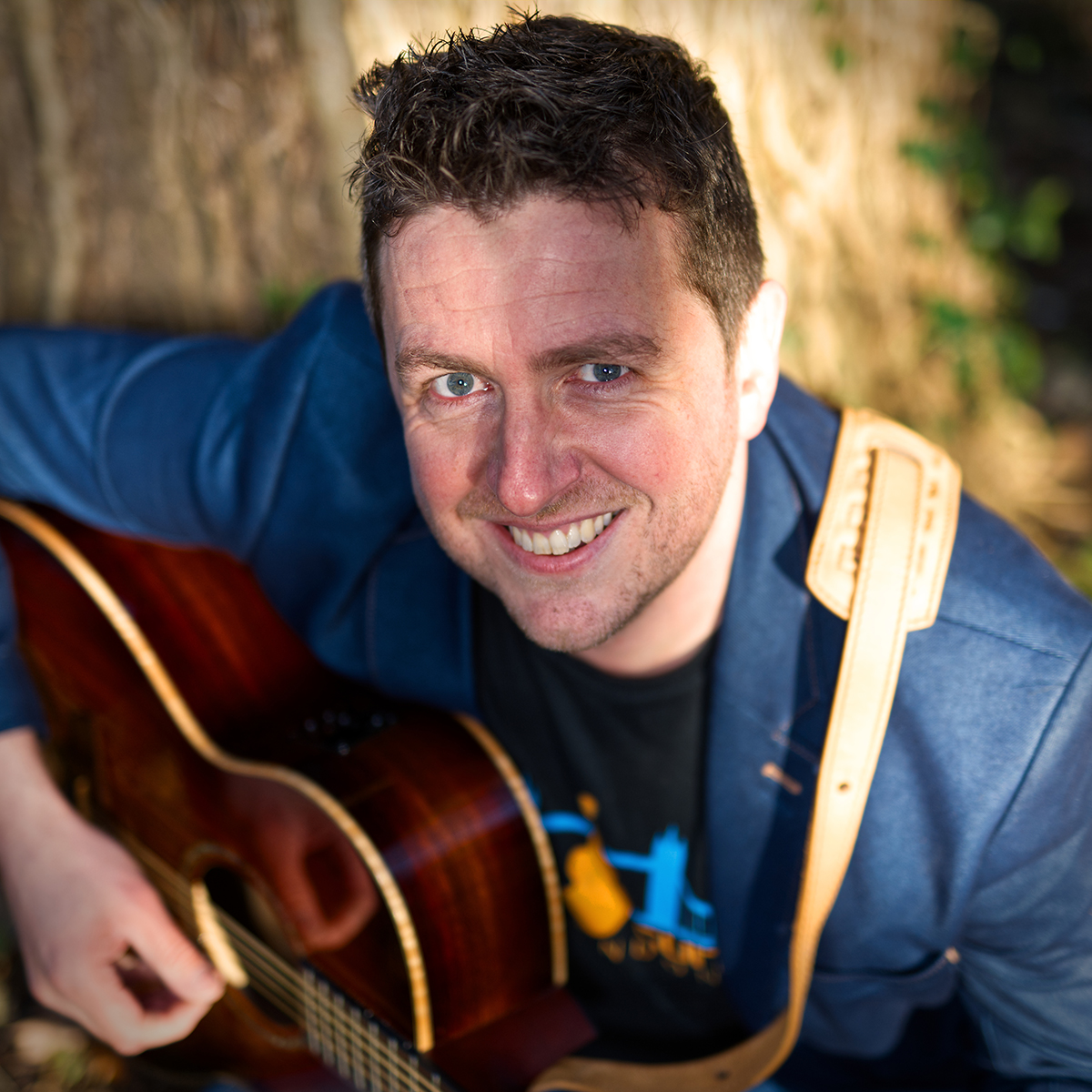 About Drue James - LGIL
230,000 YouTube Subscribers
10,000 Daily Video Views
15 Years of Teaching Beginners
My lessons are taught with patience, clarity and a thorough understanding of what it's like to be "new at guitar".
This is what separates my tuition from the rest.
These 4 fingerstyle courses have taken me 5 years to make and I can't wait to share them with you. Click the button above to get started.